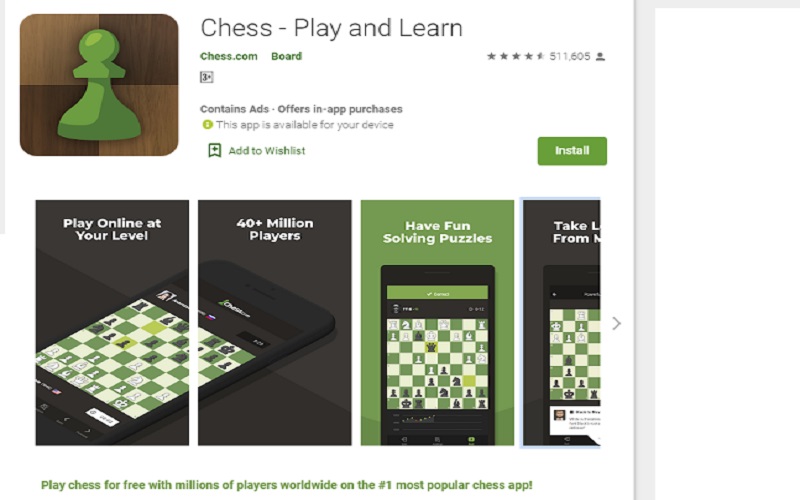 The chess duel between Irene Sukandar or Grand Master Irene and Dadang Subur aka Dewa Fan on Youtube Deddy Corbuzier, Monday (22/3/2021) attracted the attention of many people. Even though it was a friendly match, the duel between GM Irene vs Dewa Kipas had set a record because it was watched by 1.25 million viewers at the peak of the match according to Youtube Deddy Corbuzier. It started when Dadang Subur or Dewa Fan managed to beat GothamChess, who is actually an international chess player on the Chess.com site some time ago.
Inevitably, the game of chess is again popular among the public. Starting from parents to young people want to play and learn chess. However, you don't need to buy boards and pieces to play chess. Along with the development of technology, now you can play chess comfortably using applications on your smart phone or smartphone.
Are you interested in playing chess online? Here are the 5 most popular chess playing applications that can be downloaded on the Google Play Store.
1. Chess
This game is a production of Chess Prince which has a rating of 4.4/5 and has been downloaded by more than 100 million users. The popularity of this game is based on the space that is used only a little, about 2.6 MB. And also the advantage of this game is that the game is offline.
2. Chess Royale
This chess game released by XTEN LIMITED has a rating of 4.3/5 and has been downloaded by more than 5 million people in the world. In the game, the Chess Royale game uses an online and offline system. The online system is used for users who want to play with real account opponents in cyberspace.
3. Chess Free
Chess Free is a popular game about chess that has been in production for a long time. The game released by Al Factort Limited has been downloaded by almost 50 million users and has a 4.5/5 rating on the Google Store. Chess Free games became popular because the system used in this game is very simple for beginners who want to play chess.
4. Chess – Clash Of Kings
This chess application has become popular because in the game users can play multiplayer with friends or other people as long as they are connected to the internet network. This game is the output of Chess & Checkers games which has been downloaded by more than 10 million people on the play store with a rating of 4.5/5.
5. Chess – Play and Learn
The popularity of this game is due to its attractive graphics and game system and also this game is released from Chess.com which is the largest chess site in the world. On the Play Store itself, this game has been downloaded by more than 10 million users and has a rating of 4.6/5 and is a high rating compared to other chess applications.
Find more interesting games at Napalm Studio Games